Dolphin & Feather Flags
ID: P1408007
FLAGS are available in a range of different shapes and sizes, including various suitable anchoring options. Manufactured using only high quality materials, they are a cost-effective and professional method of promoting your organisation, creating a stylish and eye-catching display, designed to enhance your brand awareness.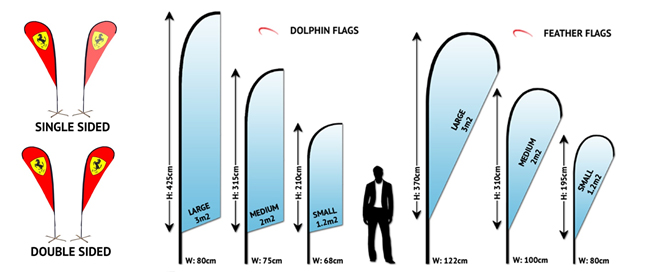 FLAGS are fully printed and totally bespoke for every single customer. Our graphic designer will work with you to ensure you get the best possible design. Available in either single-sided or double-sided, the single sided flags are printed on 1 layer of fabric and the image is still seen from unprinted side and "mirrored". Double-sided flags are literally printed on 2 layers of fabric with a middle membrane preventing any image "bleed" from one side to the other.

FLAGS are available in 2 different styles, either dolphin or feather shaped, each in 3 different sizes and all include high quality full-flood digital printing.

FLAGS include a carry bag and a choice of either a ground-bearing spike or a cross-base depending on what type of surface you intend to use your flags.

ACCESSORIES are available for anchoring our flags to any surface. Each flag order includes the choice of either a ground bearing spike for use on soft ground or a cross base for hard surfaces. Extras include car-bases held in place by the wheel of your car, frame bearings for attaching your flag to the legs of our instant shelters, flat-bases for any type of surface, our 12.5kg steel weights usable with cross and flat bases, water weights and spare heavy duty carry bags.